Castle in the Sky
Dear Jim,
Another hike without you, yet your voice remains strong in my head. It's all the exuberance you taught me, how you would marvel at the world around you, and share it, and take time to let it move you and consider it. I've never known another soul like you.
Ted and I had slightly different ideas of where to leave your ashes according to your wishes, but we picked a nice spot. It's like a private turret in a mountain castle, overlooking the ridge where you dodged death in a lightening storm once. I think you'll really like the view, and especially the storms.
We built a cairn with rocks from the area, a few brought up especially for it, including one from your garden that Susan chose. From the other side of the "turret" we could see the pond where she and two other friends had a manageable flat hike.
Nine of us that made it up to the heights with you on Ted's back in your old red backpack. I bet you never imagined that kind of turn out when you told us we could bring anyone who wanted to come. It was a very hot and humid day.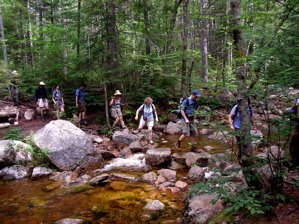 We kept in contact with those below by walkie talkie and then turned it off as we readied your resting spot. Then together we faced the pond and whooped down to them, and magically. . . they whooped back. We could hear each other across a couple of miles. A small hawk circled in the wind.
Ted and I released your ashes over the edge and on the cairn. I hope to visit with you there in the coming years and tell you about my life and ask you some questions. I sure wish I could share it with you for real, but you gave me so much in the 15 years we did share, and I am so grateful.
I cruised down the mountain by myself, and I had a thousand selfish sad thoughts, all related to how much I missed you. I waited awhile at a cross path until a couple more comrades were down and we took a detour and sat in the pond before meeting up with the rest of the crew as they all gathered. We went to dinner together and toasted you. And by doing that we celebrated knowing each other.
Thank you, I love you, and maybe I'll see you down the trail.