Where is Id?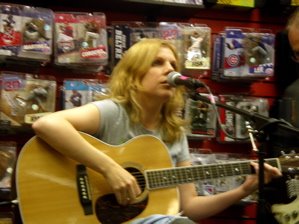 Tanya Donelly put out a new album today. I have been waiting for this for some time. I adore Tanya Donelly. Her voice travels my spine with its range of emotion, and her lyrics have always been this free-flowing spew of id that has freed my own creativity; I've written a number of poems and letters while listening to her previous albums.
I went and watched her play an acoustic set at an in-store preview to celebrate the CD release at lunchtime. It was a tiny store and there was not a huge crowd; a huge crowd would never fit in that little store. Several people held babies. I sat on the floor, about five feet from her and marveled at the amazing emotional spectrum issuing from a woman who was basically sitting still on a stool. She truly pours it out of some other dimension.
I wasn't entirely sure what I thought of the songs while listening. I was so caught up in the performance. However, upon first listen, this album is very mellow and has some nice songs but I'm missing the id. Please world, do not have beat this out of Tanya Donelly. The album was recorded mostly live at a hotel in Vermont, and it includes Joan Wasser (dambuilders), Rich Gilbert, and Bill Janovitz among others.
On a similarly mellow front, the new acoustic album from Bettie Serveert is a really pretty mellow listen. I'm looking forward to checking out the DVD that came with it, which looks to include her cover of Bright Eyes' "Lover I Don't Have to Love."
Labels: music