Gorgeous Hike, But in The End a Sad Tail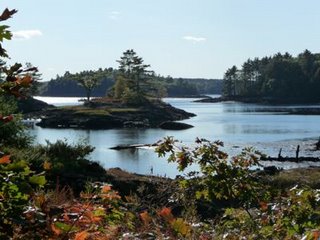 I've been sick on and off for far too long, and was totally having stomach ailments all weekend. However, I got some time to tromp around totally alone in big stretches of forest on the Maine coast and during those walks I didn't think about how I felt sick, I just examined old stone walls and poked a milk snake with a stick and photographed mushrooms.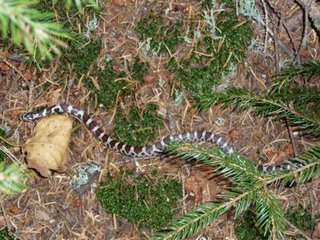 I bushwhacked through brush and saw a squirrel fall down from a tree on a broken branch. I kept to the gorgeous shoreline on one side and never worried about being lost.
There was much evidence of deer and rabbits and that odd, wonderful presence of the woods. There were tons of birds singing everywhere and it seemed like every tree next to me had several chickadee, at least one busy little nuthatch and a junco or else a solo Downey woodpecker hopping about. I flushed what I expected to be a grouse but had a big beak like a rail? (in the woods by the ocean?) and crows croaked to each other above me.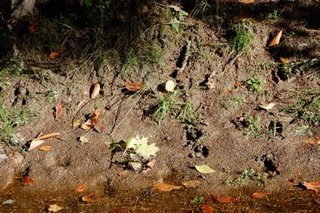 Things seemed magical and suspended.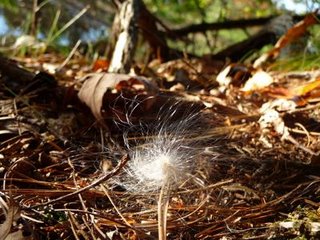 I saw this perfect hiding tree -- it was hollow like a dug out canoe. And it had a long slit you could watch the water from.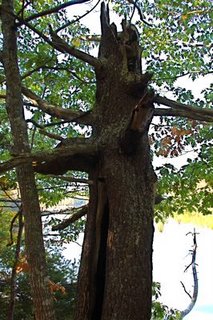 While examining it, I saw I was not alone. A sleeping raccoon!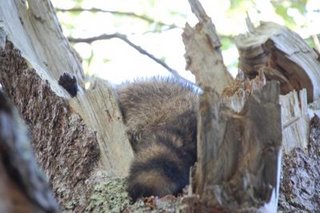 But alas, as I took a good look through the camera at the angle of that paw, and after the fifth acorn I threw actually hit her and she didn't move, I realized this sleeping beauty was never going to find her masked prince. And when I couldn't think of any other likely way for a raccoon to have died in a spot like that besides being shot by a hunter and then not falling down as expected, well I noticed how sick I was feeling again, and very tiredly slogged my way back.
Labels: hiking