Gulf Hagas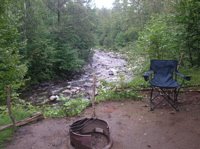 Last weekend I finally made it to Gulf Hagas, a wonderful gorge in Maine that I've meant to visit for years. My hubby and friend joined me and we drove up into the area past the Katahdin Ironworks checkpoint to the spot I reserved months ago. It was excellent car camping – we seemed to be nearly a quarter mile away from the closest site and were quite wildernessy and situated just above a roaring river.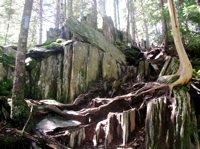 We had some rain just before we set camp and just after we cooked dinner, so it worked out beautifully. The rest of our trip had picture perfect weather and starry skies.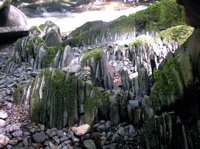 The next day we hiked into the gulf, first crossing a small river and then striding through The Hermitage, a Nature Conservancy preserve of King's Pines and along the Pleasant River where there were more camp sites. Eventually we hooked up with the Gulf Rim trail, a wonderful side trail off the Appalachian Trail.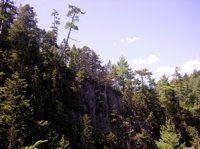 Here at Gulf Hagas (which locals seemed to say as "Haygus"), the Pleasant River drops and the rock cliffs rise about 400 feet. As a result, the rim trail is a rocky, rooted, mossy place overlooking steep drops and visiting multiple waterfalls.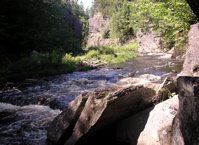 One of the bigger falls here is Screw Auger Falls. There is actually a more well known set of falls with the same name in Grafton Notch. This one is about 30 feet of serious rushing water landing in a deep rock bowl. I wanted to swim in all of the falls but was a bit over tired and battling some abdominal pain. But on the way back I asked my friend to peer pressure me into it and he started ripping off his clothes and mercilessly goading me. It worked, see the splash?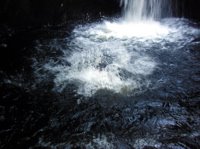 It was an unbelievable thrill with the excitement of the rushing water. Many of the other falls had good pools or fun eddies to play in, but this one was the big rush. I'll definitely return.
If you go, you can call the Katahdin Ironworks Checkpoint and reserve sites. Some were along the river, some along falls, and some required crossing the river with your gear. It was only mildly buggy in early August, fires were permitted (bringing some wood is a good idea if you're driving to your site), and there were clean outhouses. No man made running water is available. The trail is not steep but is very rocky and can be extremely slippery.