Happy Halloween
We attended a costume party on Saturday night. This party has a theme each year, and this one was "Hellenic." The concept of a toga party didn't totally appeal, so we did our best. Glenn did especially great, since he requires a cattle prod to get him to wear a costume. He came up with a beer hat -- the kind with two cans and tubing down to the mouth. He'd relabled them Hemlock (with some very funny fine print) and had a "Hello My Name is Tag" that read "Socrates." It was excellent. (He was wearing a t-shirt of a Moose on the side of a triangle for an extra Greek inside joke...) I wore a toga-like outfit with a insanely big white afro (I looked super fly in the black-lit bathroom there) and the following bling: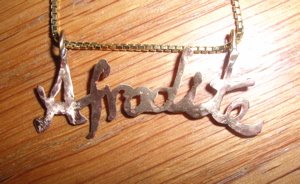 We met up with some friends there, including a truly impressive Greek salad, "Oh-limp-ass" (Olympus), Pandora, Medusa, one of the Sirens, and more.
We don't really get trick or treaters at my urban house, so tell me if you get any good ones. A friend told me about a pretty good costume she saw last year: a guy came as a "chick magnet" by glueing Peeps all over his clothes. One of my favorites was an election year when my friend and office mate at the time came as a voting booth ( you could part the curtains and be inside, facing her, lol). Oh, and a fairy tale themed party when I was wearing a hat that looked like a large pie with blackbirds coming out of it and my friend the Greek Salad was The Old Woman Who Lived in a Shoe, with the complete shoe encasing her and small dolls constantly falling out of it as she walked around.