Tips for Taking a "Babymoon"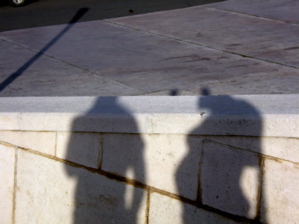 Go somewhere warm. Not super blazing hot, but warm. It adds to the ways you can just relax. If you're going to a foreign city and not minding the cold since you'll need to stop and have something to drink or rest frequently anyway, don't forget that many cafes and restaurants in the world are extremely smoke-filled.
Don't stay in hotels known for their nightclubs. Even expensive hotels with popular clubs don't always shield their sleeping customers from noise. There's nothing more pathetic feeling than a total lack of sleep while you're pregnant in a foreign place.
Stay in places that are near stores or restaurants so that it's easy to have a constant supply of bottled water and snacks, and you can make decent last minute or fatigued decisions about meals.
Don't plan in too much walking. Maybe you're a hiker, and maybe you Really want to be an active pregnant lady, but guess what? You get tired more easily. And you'll be a lot more frustrated by that than by not having tired yourself.
If you're traveling anywhere with remote, bumpy off-road travel involve, you may want to rethink your plan. Riding over big potholes in dirt roads actually really hurts the new ligaments supporting your stomach, and occasionally your lower back. Body parts that hurt have a tendency to thwart sleep, and overtired pregnant people feel horrible. And, really, no one likes a scrambled baby.
In fact, do as little as possible. This is really hard for super Type A travelers and very self-sufficient people. However, get over it. Sleep in a hammock by the beach for hours. Take a cab those couple of miles. Have security guards give you a ride up to the summit of some site you want to see. Treat yourself. Especially if you've traveled to a place where people actually act respectful to pregnant women.
Walk on the beach and swim in the warm ocean or a warm pool for your exercise (no hot tubs!). If you hike constantly in your pregnancy, take some short hikes. If you kayak, paddle a little, but take it easy. Everything is about moderation, from the fried food craving to the exercise.
If you're pregnant in a cold season and traveling to a hot place, be prepared for other bodily changes – extra weight makes for faster body temperature rises, harder hill climbing, chafing, heat rash and more. Even more water intake is necessary.
Bring Tums, possibly chewable fiber pills, and your vitamins.