Food Cubes
I've been told numerous times that I will never actually make Lyra's baby food. It's too hard, too time consuming, and just a laughable idea when faced with the reality of a kid.
Maybe I'm missing something, because I made a bunch of baby food yesterday and it was unbelievably easy. I have an organic farm share, and this time of year the veggies tend to pile up at our house where two people are eating through a family-sized share. So I steamed some veggies for a few minutes, put them in the food processor, then spooned them into ice cube trays and froze them (She won't be eating real food for a couple of months). This took very little time and required the culinary skill of boiling water.
I ate some of each flavor and would have been happy to consume large quantities of all of it. It was really delicious. And it was pretty: bright cubes of fresh colors that look nothing like the gray "green" veggies I consumed as a child. No sugar, no pesticides, no problem.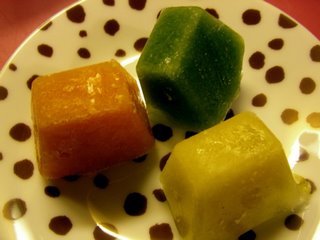 (Wish I'd taken this picture in better light so you could see just how bright they are: Summer Squash, Green Beans, Carrots.)