Two Years Married
Today is the first day in well over a week that I've lived my life normally without cutting things short and retreating to the couch to lie as still as possible while my guts rebelled. Everything feels wonderful compared to the ridiculously painful and highly frightening last week though. I believe I now know what TEN feels like on the pain scale. Try not to rupture an ovarian cyst. Ever. Stabbing yourself with a knife is a better option pain-wise.
I made good use of my immobility last week when I could actually function. Most impressive is that I taught my executive assistant tiger to come to his name. Really. Not only that, but when I say "Where's Moki?" He meows in response and then come running from wherever he is. (Luna was again, too busy for this important milestone.) While he did once bring me heavy neoprene kayaking boots up three stories (both boots, one at a time), I have yet to get him to fetch slippers.
Today is our second wedding anniversary. My inlaws were in town yesterday evening shuttling my sister-in-law around and took us out to an impromptu meal near her apt. at Marinos in Cambridge to celebrate. This is a restaurant that makes a big deal out of using produce from its own farm, however the menu looked full of non-local produce.
Our waiter appeared to be new or "possibly dim" as my mother-in-law suggested. He took my inlaws' substitution order without checking if it could be made. Half an hour later he told them it could not and we started all over again. After we'd been there over an hour we finally got our above average-tasting food. I ate an appetizer -- sort of a bland antipasto -- for dinner. It included some tasty sage and rosemary marinated mushrooms that were unusual. Glenn had squash ravioli that were pretty yummy. My normally laid back father-in-law had steam coming out of his ears from the wait and had a harsh word with the manager who coughed up only some free desserts in return. Lame.
Tonight, however, I was feeling well enough again to go out, YAY! And the two of us had an anniversary date. I made reservations this afternoon, once we were sure I could handle it, at OM, a trendy new resto in Harvard Sq. that was participating in Boston's Restaurant Week. We sauntered into the loungey waterfall wall and buddha statue decor and cozied up in a half moon shaped table. We ordered a prix fixe meal off the resto week menu that was delish. We ate Okinawa Sweet Ravioli, which were stuffed with a paste made from Okinawa yams. It was almost like red bean paste, sweet and delicious. They were also very pretty. Then glenn had a few big sea scallops with chanterelles and peas and little pickled red onions and bits of Chinese sausage and I had a sliced Moroccan-spiced duck breast with a tiny bisteeva in its own super mini cast iron skillet. Dessert was a wee piece of mango cheesecake for glenn and a vanilla creme brulee for me.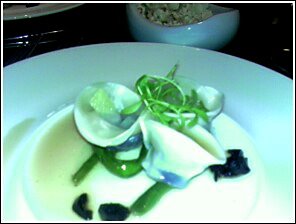 Over dinner we giggled and discussed Marriage Wisdom. G's sister had asked us if on our anniversary we had any such wisdom for her and her impending marriage. We were too tired to think at the time. Tonight we thought of a few of the values and rules we conduct our marriage by and laughed and wondered if they would help anyone else. One of the better serious rules we have is one I learned many years ago and have blown enough times throughout my years of relationships to know its worth: Do not argue after 10pm. I could tell you more, but really isn't that one enough to work on for awhile?
After our upscale dining experience we walked down the street to a hipster teen wear shop and bought each other stupidly funny underwear (I believe a dolphin with a little cap on is in my future, and glenn is Big in Japan) as glenn claimed that Two Years was the Cotton Anniversary. (The importance of Play rated very highly on our marriage wisdom list. . . .)
Labels: relationships