Tucson, AZ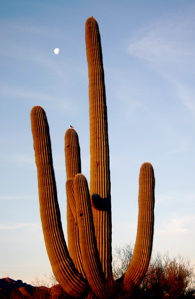 After a few anxiety-producing pregnancy issues and a couple days of tests to be sure I was travel-safe, I went to Tucson, AZ this week for the
gem show
. This is like at least forty gem shows that take over the town -- convention centers, giant tents, whole hotels where every room is a different vendor. . . it goes on and on and on.
It's overwhelming for the heartiest of shoppers, and was definitely a bit much for this way pregnant lady. I stopped a lot, watched a lot of demos and presentations and workshops, and chugged a lot of water. I saw people I knew and met people I'd heard of, tried new tools, learned about gems, and I had a very good time. I bought just a few things; mainly I got an understanding of the scene for other trips.
My friend, jeweler
Jade Moran
, traveled with me, and we stayed with my wonderful aunt. So, it was as safe and comfortable and fun as possible. The last day, the three of us just went and played. We drove down to the artist colony town
Tubac
(a day before their extensive arts fair began!) and wandered galleries and outdoor sculpture gardens for half the day. (This fountain dripped water off of her hair, which was super cool....)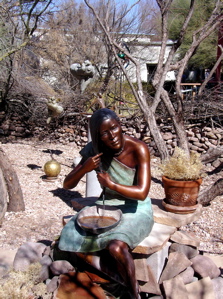 Then we went back north to the
Sonoran Desert Museum
, which has miles of trails going to various outdoor live wildlife exhibits. Since the kicking beachball and I were a bit tired by then and we had a short amount of time to see the sights, I got wheeled around in a wheelchair at high speed, screaming and laughing as we visited bobcats and ocelots and several enclosed aviaries.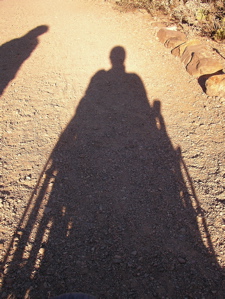 We admired the view from the visitor center of
Saguaro National Park
, then stopped in a mountain pass to watch the sunset before going out for Mexican. It was a fabulous day.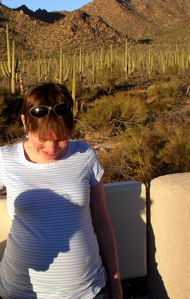 I'd only been north of Phoenix before, so it was a real treat seeing the cacti and very Western movie type landscape of closer to the border. I don't think I'd want to mountain bike there...they had me nervous enough about going flying from the wheelchair. See, it's a rather sharp place: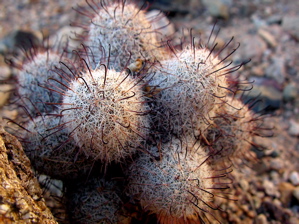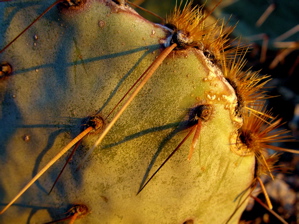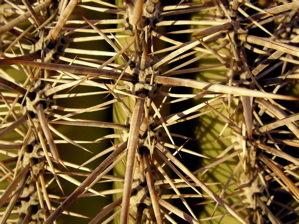 And...you always have to make sure you're not being followed!