Camping!
I'm trying to make sure I take advantage of all the things Lyra and I can do together before she is mobile. This week some friends from NJ were camping on the Cape. They wanted to know if we could stop down for a day at the beach. I would be in the car potentially six-plus hours (RT) to do that, and I'm supposed to keep Lyra out of the sun. I'd been reading the blog of
West Coast Bethany
, who just posted gorgeous camping photos of a trip with her four kids, and I was inspired. So, I suggested I come down and have dinner and grab a vacant campsite.
This worked perfectly. There was a site right by them that was available. It's a little challenging driving so far alone with the wee lass, but it was okay. The kids were all in love with Lyra and insisted on attempting to entertain her (even while she was nursing; "Dinner And a show!" one of the kids yelled), we all went out for some delicious lobster, and Lyra and I had an easy night in the tent. I didn't have to walk any of our four gazillion stairs, I got to sleep outside, wake up with a tousle-haired footie-pajamaed cutie smiling at me, and my friends made me pancakes. That's living.
The biggest challenge I found of camping alone at a drive-in campground with a baby, besides the driving, is the decisions to be made around going to the bathroom in the middle of the night.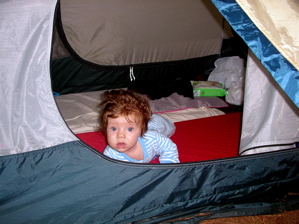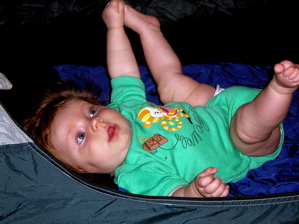 Labels: baby