Jewelry
A friend wants to see what I've been making...
Since I know five couples getting married in the next month I have been making wedding rings. Oddly wedding rings are sometimes the most simple rings. And somehow simple rings can manage to find their own challenges. Especially when you're a rookie. Anyway, here's a couple that are in the works.
That's 14k yellow gold, a simple flat band with a matte finish. This ring had to be resized (hammered wider) as the size the client thought he was didn't match his finger. This is not unusual when you don't size someone yourself. So it required a bit more work to even it out, but it's nearly done.
This one is my first cast piece. Things come out of the mold with a big connector leg (a sprue) on them which has to be removed. This was a little tricky on this one to keep the symmetry, particularly as I was working on it while ill. It is 14k white gold.
Oh and in case you've never seen the groovy rings (designs by C. Ploof that I made while working for him) I made for glenn and I, here they are (I love these rings):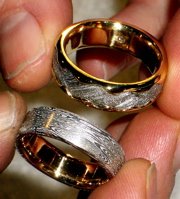 Mine is damascus steel and 18k, glenn's is the one with the rolled wavy edges -- his is forged meteorite with 18k.
Other than that I've been still trying to get the exact etching I'm looking for on some bracelets: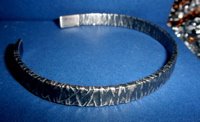 And I work for another jeweler a couple of days a week on her designs. My work that is at Penumbra Gallery in Gloucester is doing okay. I sold another three things the other day. That will be be my deposit for my new studio space. :) Of course when I was in the ER last week wondering if I was dying I thought "I should have written a novel." This should be my gravestone: Too many interests in an unreliable sack of skin.
Labels: jewelry